Bet Angel is the leading solution for enhanced trading on the betting exchanges. For anyone with an interest in trading these exchanges it is an absolute must. The Bet Angel review below will explain why!
---
Bet Angel Free Trial
The current offer from Bet Angel is either a 14 day free trial, or a half-price trial for a full month. To claim this offer, you do not need to enter a Bet Angel Coupon Code, simply click the banner above to be taken directly to the offer page.
For our Bet Angel review, please read on.
---
Bet Angel Review
Background – trading on a sports betting exchange
As a sports betting exchange, the likes of Betdaq and Betfair are actually modelled on the financial markets of the city. If you have only ever used a betting exchange through a web browser you've not even scratched the surface of what is possible. It is not until you use a product such as Bet Angel that you start to understand the potential in trading the sports exchanges much like the financial markets.
Why Bet Angel?
Bet Angel has been the market leader for some time now. It has been continually developed and improved, and with the backing of a huge community of users, is the tool of choice for sports traders. The product itself is stable and reliable, absolutely critical factors for someone looking to invest significant sums of money in the rapdily changing markets.
How does Bet Angel work?
Bet Angel is a 3rd party piece of software that sits between your computer and the betting exchange. It replaces the web based interface that you would normally use when placing a bet. It allows you to interact directly with the betting exchange in the most efficient way possible. As any trader will tell you, time is critical!
What does Bet Angel do?
Bet Angel is an extremely powerful tool. It can be used for anything from simple interactions with the betting exchange (e.g placing a bet) right through to fully automated trading via Excel spreadsheet integration. Bet Angel is module based, i.e. it has various modules to manage your different trading activities in appropriate ways. The image below shows these different modules and the global settings above them all (click for full size):

The modules are:
One-click, Ladder, Automation, Charting, Manual Bet, Dutching, Bookmaking, Matched Bets, Saved Bets, Excel, Log and Desktop.
Above the modules Bet Angel has a number of global settings that can be configured and which take effect irrespective of which Bet Angel module you are using. These include settings such as your tick size (used to define the size of your stake), fill or kill (a time limit for a bet being matched) and a stop loss to automatically close a trade.
Bet Angel modules
Each of the modules is designed to assist your trading activity in a different way. Lets have a look at a few selected modules to give you a further idea of the power of this software.
One-click
At its simplest level, Bet Angel can be set up to place a bet in a single click, for example, you might be watching a live football game, and want to quickly place a bet at a particular time. You could set Bet Angel up in advance so the stake and odds required are already in place, then click a single button to place the bet.
This image shows the "one-click" interface. Click to open full size in a new window:

You'll note in the image above that the interface centres around a very similar look to the Betfair website. This is exactly what it sets out to achieve, all the required information is easily to hand. It's the bits around the edges that make the product, these are all the various tools and options.
One simple example is the button on the far right, this is "Make Market." This is a single click tool that places two simultanteous bets into the market, one on the lay side, one on the back side, creating a simple trade. The bets are placed at the currently available prices, so needs activity in the market to get the bets matched. Should they get matched, you've effectively bought something, then sold it on for a little bit more! This is the essence of trading.
Ladder
The ladder interface shows the depth of the market. At a glance a trader can see a number of the key indicators they would use when assessing a market and deciding how and when to place their trade. The ladder interface can be configured using the global settings, and it is of course possible to place your bets using a single click.
This image shows the ladder interface, click to see it full size in a new window: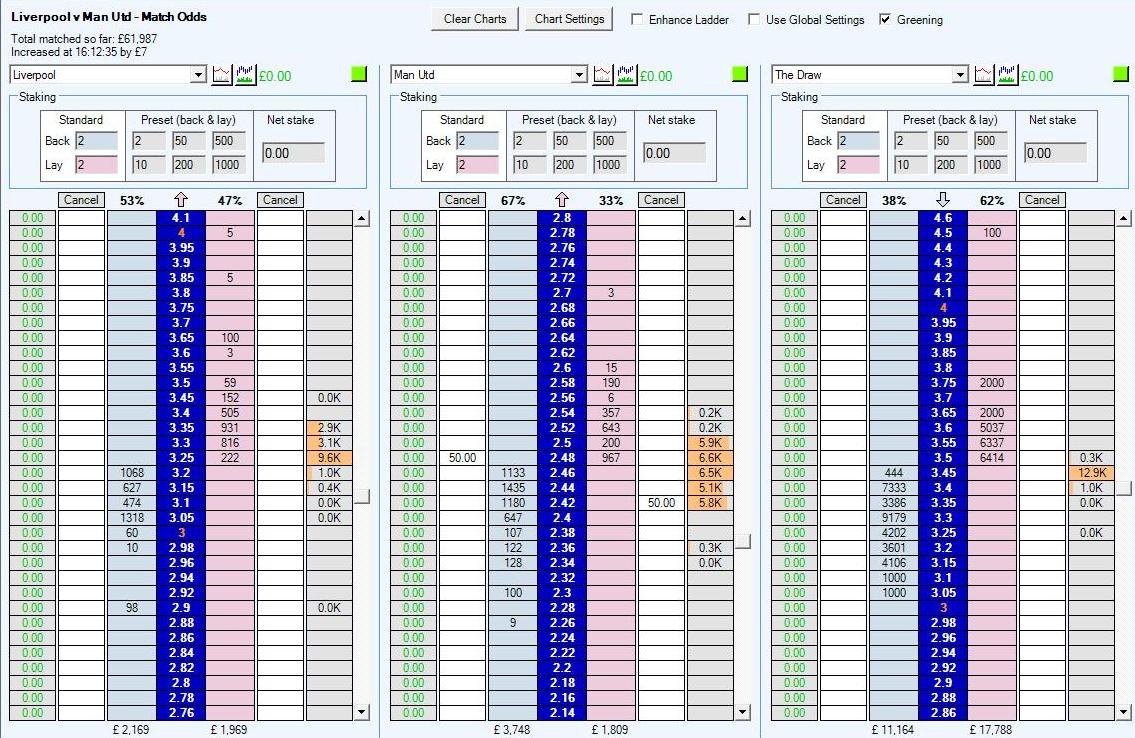 Dutching
Dutching is a good example of the sort of the power that Bet Angel gives you. To "Dutch" is to bet on multiple outcomes in the same market, possibly even all outcomes. If you can do this at appropriate prices and stakes, you can guarantee a profit from the market irrespective of the actual winner! The dutching module of Bet Angel allows you to manage a dutch of a market, by calculating all possible outcomes based on a set of criteria you specify. E.g. you could set a target percentage profit margin, or the stake you'd like to use.
This screenshot shows the dutching interface, click it for full size in a new window:

Summary
Given the complexity of the product, this review can barely scratch the surface. If you have serious interest in Bet Angel, the best way to learn is to do. Our advice is to click the banner below, download a copy for at least a months trial, read the manual, and get stuck in! (In practice mode at first!)

Bet Angel coupon code
At the moment there is no need to enter any Bet Angel coupon code to claim the offer, we will update this page if this changes. If you fancy either the free trial or the half price month trial, click either of the banners on this page to go directly to the Bet Angel website.
Sign up to the betting exchanges
Remember that Bet Angel is available for both Betfair and Betdaq, if you are yet to sign up to either of these betting exchanges, make sure you take advantage of one of the free bets on offer!
Betfair:
Betdaq:
Good luck using this superb betting application. If you want to let us know your experiences using Bet Angel we'd be delighted to hear from you!